If you want to deploy the App-V 5 Agent on your computers, you can use System Center Configuration Manager (SCCM) 2012. The most easily method is to use an Application. By this way, you have the possibility to link some Dependencies and target specific operating system architecture (x64 or x86).
To deploy App-V 5 agent, you have to follow these steps:
Configure Dependencies.
Create Application.
Configure Deployments type for x64 and x86.
Deploy on a collection.
Check installation.
Dependencies
Depend on which operating system you want to install App-V 5 client, you may need to install some prerequisites:

Create App-V 5 Agent Application
 On Application part, create a new Application:

 Check Manually specify the Application Information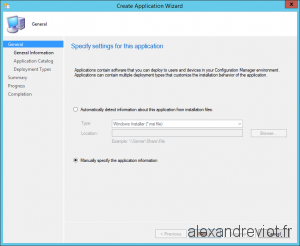 Enter information about the Application:

Name: App-V 5 Agent
Publisher: Microsoft
Software version: 5
Deployment Type x64
Create a deployment type: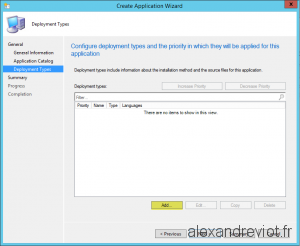 Select Script Installer and check Manually specify the deployment type information: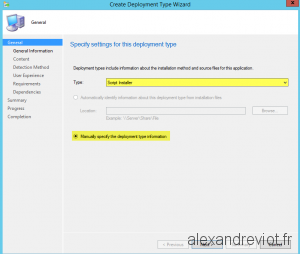 Enter information about the Deployment

Name: App-V 5 Agent (x64)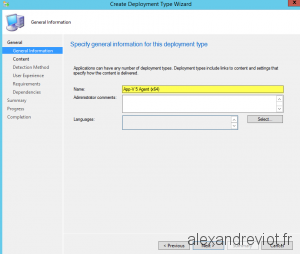 On Content page:

Content location: your share folder
Installation program: "appv_client_setup.exe" /q /norestart
Uninstall program: "appv_client_setup.exe" /uninstall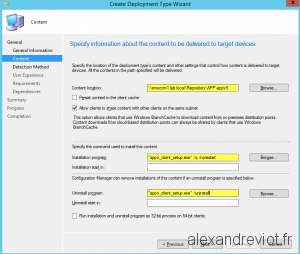 For the detection method, click on Add Clause: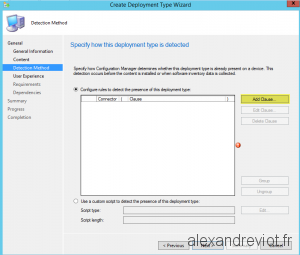 Select Windows Installer and select .msi for x64 bits:
In the User experience tab:

Installation behavior: Install for system.
Logon requirement: Whether or not a user is logged on.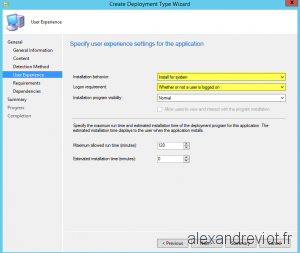 On Requirements page:

Select All Windows x64 bits
On Dependencies page:

Create a group for each Prerequisite.
Verify that the operateor between each group is AND.
Check Automatic Install.
Finish the deployment type Wizard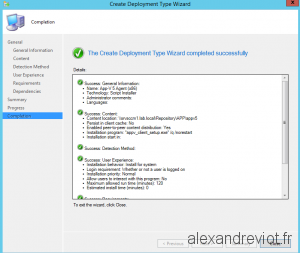 Deployment Type x86
Do another deployment type for x86. You need to change some information like:

Deployment Name
Product Code Windows Installer
Requirement Operating System
Finish the Application creation.
Relationships
You can check the relationship for App-V 5 Agent application:

Deploy it
Last step to do is to deploy the Application on a collection.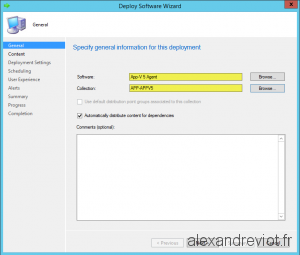 Installation on SCCM Client
On a client computer, go to Software Center and select App-V 5 Agent to install.

After a reboot, check the installation.
More
As App-V is part of Microsoft Desktop Optimization Pack (MDOP) ,you can find more information: here