When Microsoft release a new Cumulative Update for ConfigMgr 2012, the SCCM Agent is updated too with a new version. To fix some bugs and improvements, you need to deploy it on all your clients.
To do this, you can choose two solutions:
Use the CAB file in the folder [SCCMInstall]\hotfix\KB\SCUP and deploy it with SCUP, that means you are using Software Updates.
Deploy the new version with two packages, one for x86 and one for x64, included in the Cumulative Update. With this solution, you can easily update your client with no technical requisite.
We will see how to update clients with the second solution, using package.
Update SCCM Agent
After the installation of the last Cumulative Update, you will see a new folder in the packages node: Configuration Manager Updates  and 4 packages:
Console Update
Server Update
x64 Client Update
x86 Client Update
Before deploying these packages, you can follow the following steps:
Create administrative collections and deployment collection.
Modify default programs to change Client Plateform requirement.
Deploy packages on the deployment collection.
 Create administrative and deployment collections
The first collection that you have to create, is an administrative collection: it gathers all client with the old SCCM Agent version.
For example, in the post, I will update the agent from 5.00.7958.1000 to 5.00.7958.1303.
Create administrative collection for 5.00.7958.1000 version: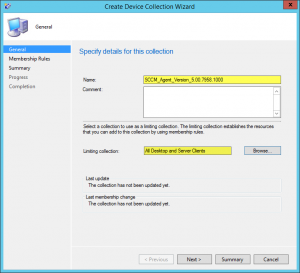 Add query rule to the collection. You can set your own membership refresh: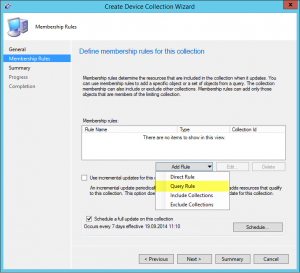 Criteria for the query rule: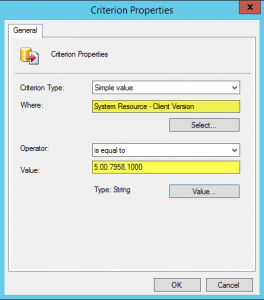 Membership rule for administrative collection 5.00.7958.1000: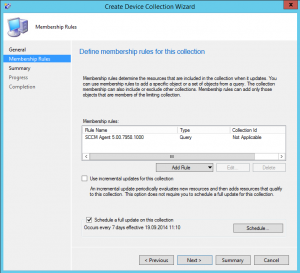 Create administrative collection for 5.00.7958.1303, the lastest version: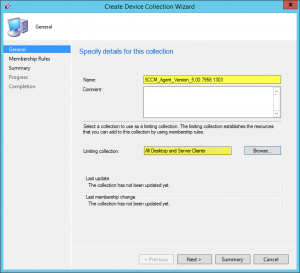 Query rule for  5.00.7958.1303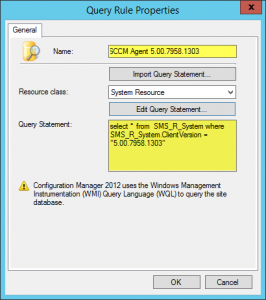 Once you created one or several collections, one for each agent version in your infrastructure , you can create the deployment collection.
This new collection will include all administrative collections in membership rules and will be targeted by two deployments.
 Create deployment collection: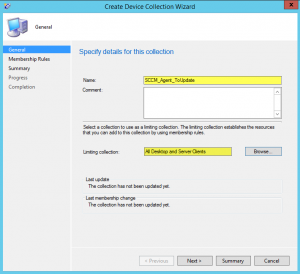 Include all old agent version administrative collections: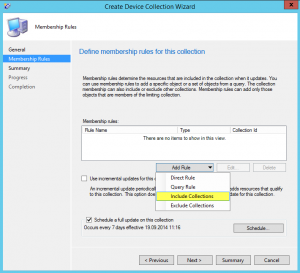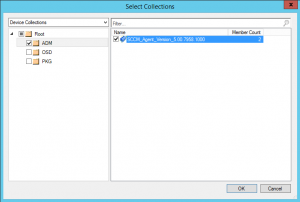 Membership rules for deployment collection: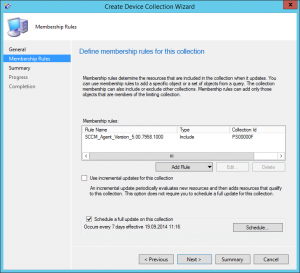 When it's done, you have at least two collections:
One, or several, which contain all your old version client.
One to link deployment of the last package update client.

 Modify default programs
The deployment collection contains x64 and x86 out of date clients. But we have two packages, one for each architecture. By default, both programs are set to run on any platform, but when a x86 computer tries to execute a x64 update, it fails.
We need to apply the package depend on the client architecture.
Go to the x64 Client Update, Programs tab and select Properties: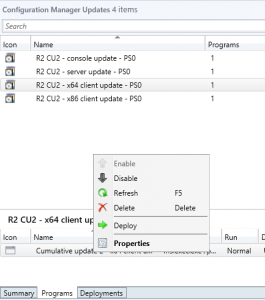 On the Requirements tab, select Only on specified client platforms and check all 64bits operating systems: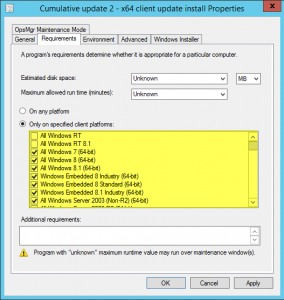 Do exactly the same for x86 Client Update, but this time, check all 32Bits operating systems: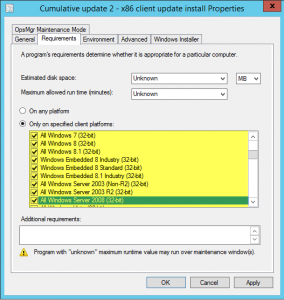 Now, with modifications, each client can run the update for its architecture.
Deploy packages on the deployment collection
Once we created collections and we modified programs, we can link each other.
On the x64 Client Update, create a deployment and select the deployment collection: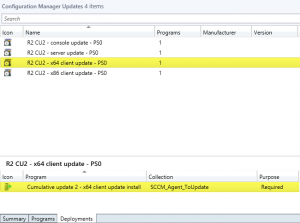 On the x86 Client Update, create a deployment and select the deployment collection: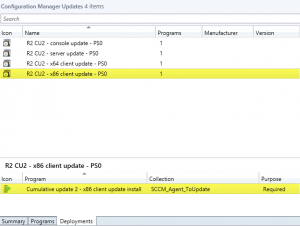 You need to wait the policy refresh, and all clients will be updated to the lastest version.
What to do when new Cumulative Update is released
Include the most recent administrative collection in the deployment collection.
Create a new collection with the lastest version.
Delete both deployments for old packages and create two new deployments with new packages.
In case of new operating systems, check the platform on both programs.
More
You can get more information about Client Setting here